Amtrak Vision Quest Pt. 1
Draisienne 003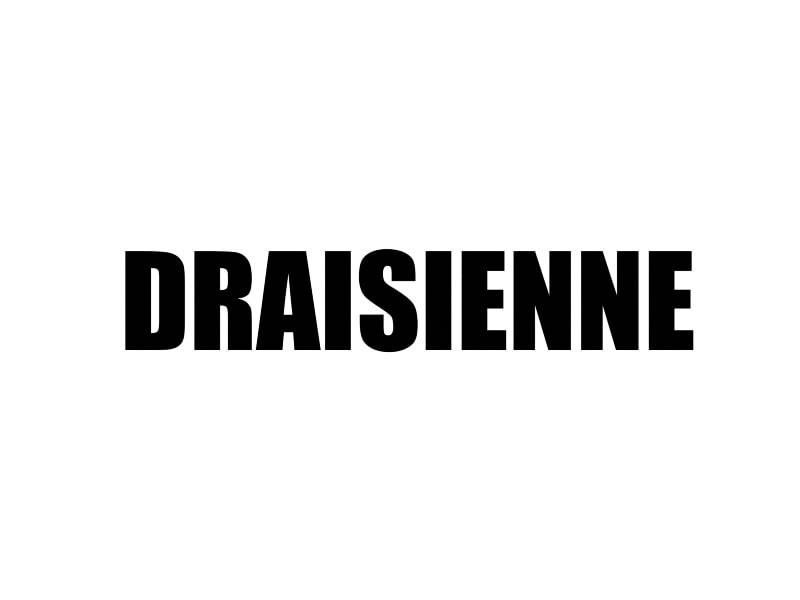 Draisienne 003   —   brought to you by Alex Vickers. Join the squad of mobility nerds who are along for this ride  —  subscribe now.
---
Halfway There
Hello from the rails my friends. As I write this, I'm sitting in the "sightseeing" car en route to Houston. I've just finished up lunch that consisted of leftover hummus and crudités from my Airbnb fridge with a microwaved Amtrak hot dog. Clearly I'm traveling in style! This long train ride from New Orleans to Houston is the perfect time to write my latest newsletter. 
I know I'm straying from my wheelhouse by writing about trains instead of micromobility. Bear with me — Draisienne is a multi-modal newsletter. Traveling by train has been an incredible learning experience about the way things were with rail travel, the way things are with Amtrak, and the way things could be. For a more detailed account, I encourage you to follow me on Twitter for the play by play. Consuming the scenery, kitschy Amtrak stations, and each leg of the trip on Twitter will allow me to be much more high level on Draisienne.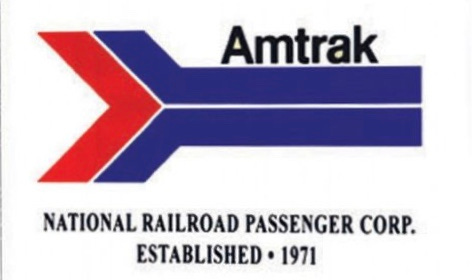 Why Amtrak?
A lot of people, including my parents, told me I was nuts to take Amtrak across the country. "Amtrak in February? You'll get trapped in a blizzard!" Thanks to an unseasonably warm winter, the blizzard prediction hasn't come to pass but the question remains. Why Amtrak?
The biggest motivation is an accretion of desire from reading NYTimes articles, watching YouTube channels, and researching all the lines endlessly. In my final days at Uber, when I knew I would be leaving, I was tinkering with my Amtrak route obsessively. Do I want to take the Empire Builder or the California Zephyr? I slowly but surely got my heart set on this trip. Apparently I'm not the only one, trains are making a comeback. Personally, I realized I crave a unique experience over convenience, speed, or Comfort+. With Amtrak's USA Rail Pass, I was able to create a tailor made sabbatical trip that I'll remember for the rest of my life. 
The more serious motivator is the political reality of Amtrak, and the financial uncertainty faced by the publicly funded but privately held company. A few fun facts about Amtrak that I didn't realize until my urbanerd research. First, they are a privately run company that rose from the ashes of the robber baron passenger railroad era in 1971, consolidating over 20 lines into one system. Oddly, the only shareholder is the US government and every year Amtrak asks Congress for an appropriation. Second, the shell companies that remain from that robber baron era, like Union Pacific, own most of the track (except the Acela corridor in the Northeast US) and prioritize their freight services over passengers. This causes delays, limited service, and a cycle of disinvestment that results in a lot of who pays for what finger pointing, Penn Station being depressingly symbolic of this very issue. 
Finally, due to Amtrak's odd corporate structure, hamstrung operations, and the booming air travel sector, it's long term funding is in jeopardy. Richard Henderson, former CEO of Delta Airlines and the current CEO of Amtrak, has hinted at cuts to long distance rail travel and Amtrak's new vision of inter-city travel could unlock profitability for the company. Trump's latest budget proposes significant cuts to Amtrak, including a 50% cut to long distance routes and an eventual phase out. The 2020 election will be a big indicator for Amtrak's long term future, imagine the difference between an Amtrak under a Democrat presidency vs a Trump reelection. It could be now or never, and I wanted to enjoy these historic long distance routes while they're still here.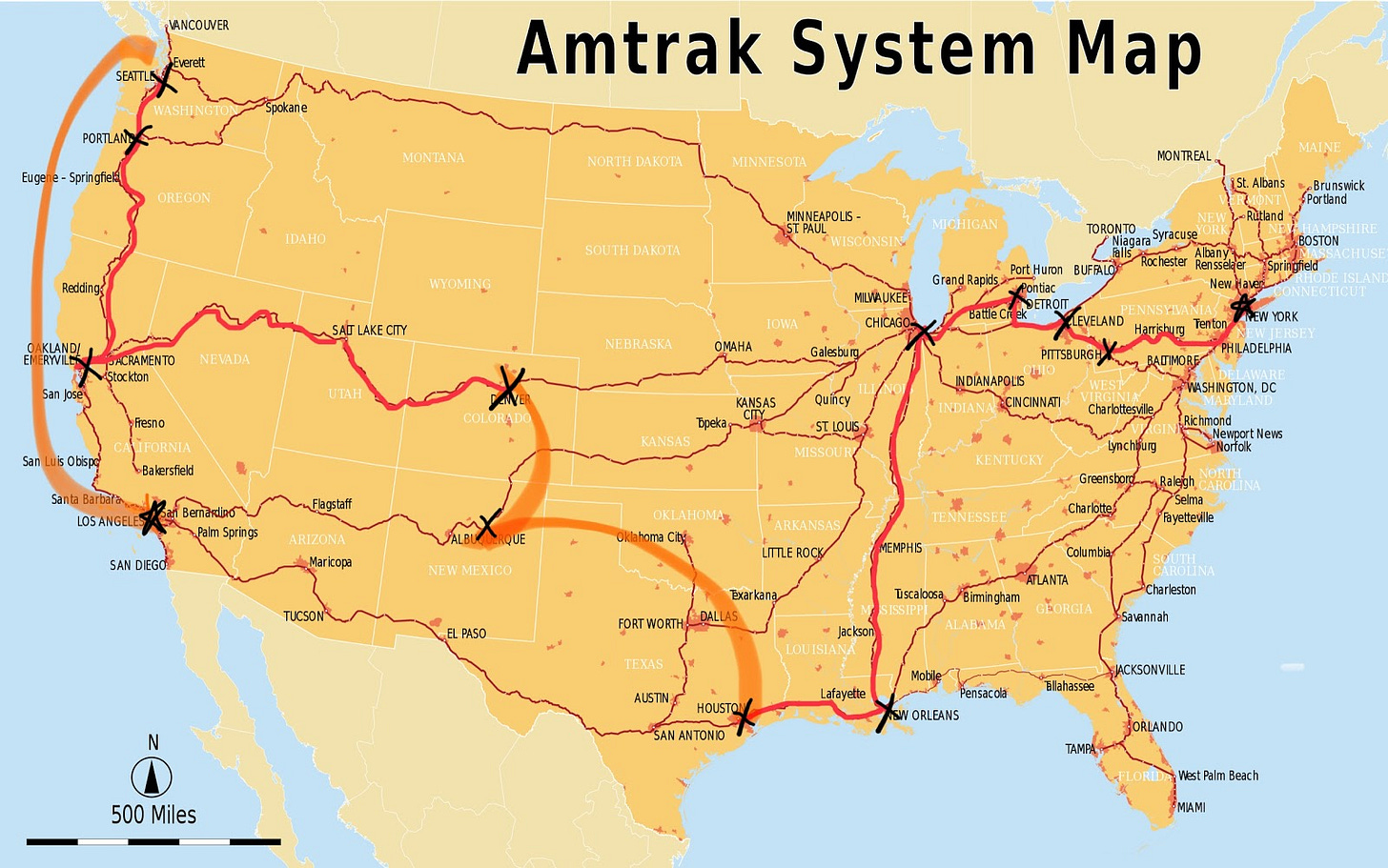 Crude legend: Stars = Start and End, Xs = Stops, Red = Amtrak, Orange = Flight
The Route 
The $650 30-day USA rail pass includes twelve segments, where a segment is defined as getting on or off the train. If you're capable of staying sane on trains for days at a time, you could criss cross the country up to six times if you planned it right. I'm not that wild, and decided to break up my trip into reasonable chunks with only a few legs longer than twelve hours.  
The first thing I noticed when planning my trip is Amtrak's reliability is challenging at best and infeasible at worst. The train system was built around transporting freight to Chicago, and is hub-and-spoke from Chi-town due to the cities long history in livestock and meatpacking. According to the NY Times, a quarter of all train travel in the U.S goes through Chicago, and you feel the difference if you're traveling anywhere other than Chicago. Getting to Chicago is easy. Getting to other places is hard.
Getting out of New York was harrowing to say the least. The Amtrak agent had never printed a USA Rail Pass before and spent 35 minutes getting all my tickets together. I made my train by literally one minute, and if I had missed it I would've had to wait another day to depart. This is the case with most long distance lines, where frequency is measured by days rather than hours. I arrived in Pittsburgh after a beautiful 9 hour train trip through the Allegheny mountains.
My next train was really rough, leaving Pittsburgh at 12:57 am to arrive in Cleveland at 4:00 am. This was the only option I could take to get to Cleveland, and my train to Detroit was the exact same train the next morning. I disembarked bleary eyed in Toledo, OH to catch connecting bus service to Detroit and was extremely grateful that the Motor City Hotel allowed an early check in at 7:00 am. Luckily upon arriving in Detroit, the trains became much more sane in their scheduling and my trip to Chicago was a quick four hour jaunt. During my late night trips, ridership felt eerily low and at one point I was the only person in my entire car. If you're traveling at 12:57 am it's probably because you don't have other choices.
After an awesome weekend in Chicago, I met a childhood best friend in Memphis and we travelled together onward to New Orleans. I knew that I wanted to go South as soon as possible to avoid winter weather, but heading straight to Memphis and New Orleans introduced some challenges. My initial plan was to visit Houston and Austin, but getting to Austin proved to be a fool's errand. It would've used up two segments and required a night layover in San Antonio. In order to get to my next stop, Albuquerque, I would have had to take the train to Dallas, then backwards to St Louis, over to Kansas City, and then back down the Southwest Chief line. This would be a gargantuan time suck and use up three segments.
The other option was taking the Sunset Limited line across Texas to El Paso, then a bus to Alburqurque, then another bus to Santa Fe. Again, three segments for one city. I looked into a car rental and was getting slapped with $350 one-way rental fees. I made the unfortunate decision to cut Austin, to take a plane from Houston to Albuquerque, then from Albuquerque to Denver to link back up with the California Zephyr line. I really didn't want to fly, but getting there via other means was cost and time prohibitive. I begrudgingly booked my flights, feeling like I was cheating on my Amtrak dreams. 
The California Zephyr line is the pièce de résistance of the whole trip and a big reason why I've been wanting to travel the country via train. The route goes from Chicago to Emeryville, just outside of San Francisco, and travels via national parks in Colorado, Utah, and Nevada. To cross over into California, you travel through the Rocky Mountains to Lake Tahoe, then onward to the Bay Area. I'm taking a 36 hour train from Denver to SF, and from there it's a mad dash to the finish line in Seattle via the California Surfliner. I have a short stop in Portland, then head to terminus in the Emerald City before flying home to Los Angeles.  
A few takeaways from my routing:
It's impossible for rail travel to compete with air travel on nearly every level: reliability, convenience, cost, and time. There are often only one or two trains a day along certain routes at borderline inhumane times of day.

Outside of major hubs, the Amtrak system's unreliability means that very few people ride it and the ones that do have no choice. Certain lines feel like they are hanging by a thread; running a train with 20 people on it makes no sense.

The hub and spoke model means that long distance train travel must be routed via Chicago or the coasts. Modern hotspots like Austin, Columbus, or Denver are really difficult to get to via Amtrak.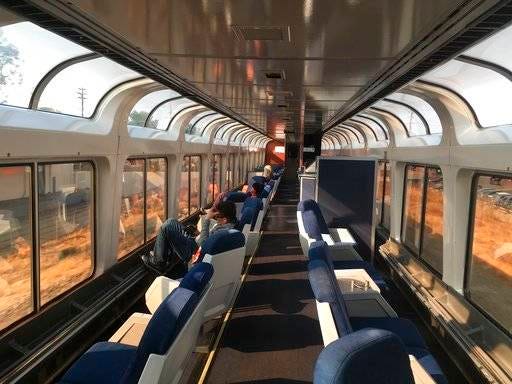 The Experience 
Now that the table is set, I get to talk about how lovely the rail experience has been thus far. While the travel times have felt daunting at first glance, a nine hour train ride is drastically different and much more manageable for me than a nine hour plane trip. In an era where plane travel has become so commoditized, the train feels like a huge gulp of fresh non-recycled air. 
For one, Coach on a train makes Comfort+ feel like barbarism. The whole recline-gate controversy that unfolded on social media was a hoot to read while cocked back at 45 degrees with a foot rest. The sightseeing car has windows from floor to ceiling, comfortable booths, and a dining car below to get food or drinks.
The long distance routes are even more plush in comparison to air travel and offer sleeper cars. I upgraded to one on my Chicago to Memphis leg for just $120 (my Rail Pass covered the "coach" portion), after my restless nights on overnight trains earlier in the trip.
This is where the cost to benefit ratio gets really stark in comparison to air travel. A lay flat plane ticket typically costs north of a thousand dollars, and Amtrak's sleeper cars are available at a much more accessible price. For long trains, I can't recommend it enough, and with meals included you get to skip a few $10 hot dog meals. The ride was unlike anything I'd ever experienced. We had an entire dining car that fed the sleepers and offered a living room experience in-between meals. I boarded in Chicago at 8 pm, they took my dinner order, I enjoyed a fettuccini alfredo dish, wine, and a blondie for dessert. While I ate, my car was converted into sleep mode, and after a few emails in the dining car I moseyed down to bed. It's not the most comfortable sleep, but I did get valuable lay flat shut eye. This type of experience is rare nowadays in an era where plane travel nickels and dimes you, Amtrak was so unique, luxurious, and romantic.
Another fun aspect of train travel is the "smoke break" which is a relic from a bygone time. You get these short 20-30-40 minute breaks where I imagine they refuel and retool, but the conductors still call it a smoke break. I personally love the idea of setting foot in a place where I may never return to again, like Jackson, MI or Beaumont, TX, and stretching my legs along the platform. In Philadelphia, I had time to run out to the train station, admire the architecture, grab a sub, and hop back on the train. It breaks up the monotony, and compared to a plane where your only opportunity to not sit is pacing the aisles, the smoke breaks give you a chance to stretch your legs. 
A few takeaways from my experience:
If you have the luxury of time, train travel is a much more romantic way to travel compared to planes or cars. Staring out the window is so much more entertaining from ground level and uninterrupted free time is a privilege.   

The sheer amount of space and amenities available make planes feel even more claustrophobic. As planes charge arbitrary fees for checked bags or Comfort+, rail becomes more and more appealing. A "lay flat" sleeping experience usually costs more than a thousand dollars and Amtrak offers it at a much more reasonable price. 

There is low hanging fruit to make the pretty good train experience into a great one. If Amtrak took a page out of Delta's book and really nailed the digital experience, it'd unlock a lot of value. A great app, fast WiFi, and some sort of "inflight" entertainment would go so far. 
What's next?
I'm about to arrive in Houston and to be honest I'm a little grateful for this three hour+ delay. I was able to bang out most of this newsletter while watching the very flat landscape roll by. This is the exact halfway point of my trip, and unfortunately I'll be taking a lame plane for the next two legs. I fly from Houston to Albuquerque, spend a few days in Santa Fe, and then fly again to Denver. Once I arrive in Denver, I have a good friend meeting me for the California Zephyr and traveling to the Bay Area. Once I get to the Bay, it's the home stretch with the overnight train to Portland, then terminus in Seattle. My USA Rail Pass expires the day I arrive in Seattle, and I'll have used all but one segment.
As for what's next with the newsletter, I'm looking forward to sharing the second half and ending the journey with a coda for Amtrak. I started this newsletter outlining the uncertain future facing Amtrak and long distance rail travel. This would be a loss for our Americana heritage, and either an emblem of a fading power or an opportunity to reignite our techno-industrial engine. Stay tuned if you want to learn about China's bullet train blitzkreig, the unit economics of my Amtrak ticket, and the future of rail travel within the context of my own cross-country train experience. 
---
Holler!
If you're along the route (Santa Fe -> Denver -> San Francisco -> Portland -> Seattle) and want to get coffee please do holler. Reach out via email or follow me on Twitter. Forward this along to your friends if you enjoyed reading, and subscribe now if you've joined us recently!